Did you know that just 30 minutes away from Sanur lies an island paradise?
That island is Nusa Lembongan and it is one of the three islands that make up the Nusa Penida Archipelago. Nusa Penida is the largest of the three. Nusa Lembongan and Ceningan Island are the other two and connected by a famous yellow bridge.
Nusa Lembongan will seem like a world away from Bali. It has beautiful golden beaches, phenomenal sunrises, and sunset viewpoints. And world-renowned scuba diving sites and magical marine life.
So now you know this paradise island exists you may be asking yourself, "How do I get there? And what should I do with my time on the island?"
We have answered all the essential questions below for you.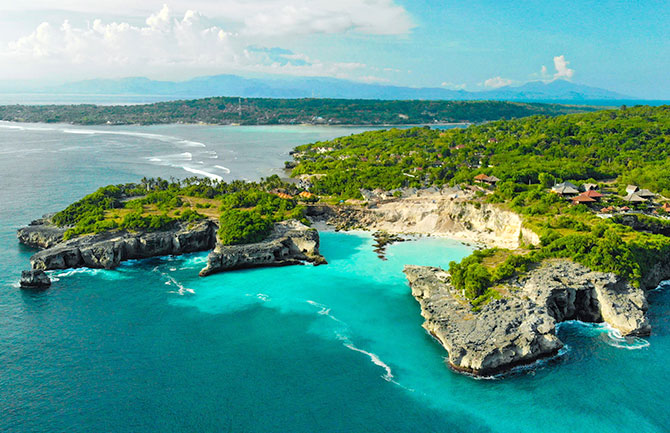 HOW DO I GET TO NUSA LEMBONGAN?
The island of Nusa Lembongan is around a 12-mile journey from mainland Bali. The only way to reach the island is via boat. Most boats depart from Sanur, which is just east of Denpasar as it takes only a short 30-minute journey from this harbor.
There are several different areas on the island where boats arrive to drop and pick up visitors from. Scuba Center Asia is located in the Mushroom Beach area. We tend to use and recommend Marlin Fast Cruise, as they drop off and pick up from Mushroom Beach and have a fast boat.
Three important things to remember:
If you book scuba diving in Lembongan with us here at Scuba Center Asia, we can make your boat reservation for you, so all you have to do is show up and pay for your ticket!
Anywhere you stay in Bali should be able to organize your boat for you as well as your transport to the port.
If you happen to make a mistake and get dropped off on the wrong part of the island, do not worry. Transfers are usually included in your hotel/homestay in the price of the boat ticket or a very small extra charge. Always double check when booking.
Okay, so you made it to island. Now what!?
SCUBA DIVING COURSES WITH SCUBA CENTER ASIA
Nusa Lembongan has a lot to offer, and one of the things that we recommend as a must-do experience is scuba diving!
Scuba Center Asia caters to all experience levels. From newbie to experienced to wanting to take on an instructor course and turn scuba diving into a career, we have got you!
The waters around Nusa Penida contain world-famous scuba diving sites, like Crystal Bay and Manta Point. These locations can have crystal clear waters and a huge diversity of marine life. They are also one of the few spots in the world where you can see the mysterious mola-mola fish or manta rays socialize around a cleaning station. There are also more adventurous dive sites to the north where you can drift dive with currents.
Here is a list of the different scuba programs we offer at Scuba Center Asia:
PADI Discover Scuba Diving
PADI Open Water
PADI Advanced Open Water
Emergency First Response
PADI Rescue Diver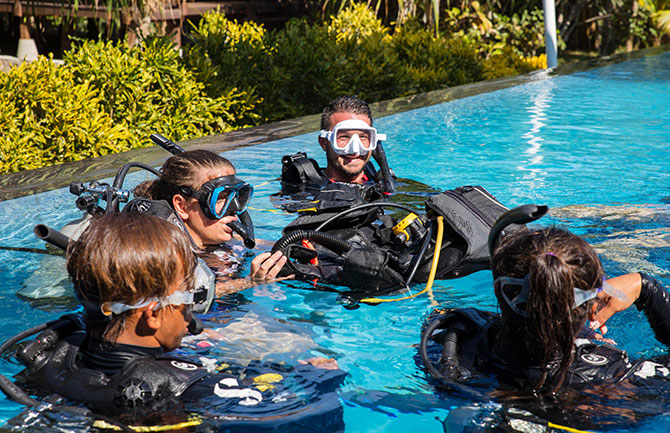 If you are already a certified diver and interested in developing further, Scuba Center Asia also provide Go Pro courses:
PADI Divemaster
PADI IDC
PADI Speciality Instructor
MSDT Internship
PADI Staff IDC Instructor
PADI Master Instructor
Here at Scuba Center Asia, we are proud to have Kim, the only female PADI Course Director and dive resort owner on the island. #IDCwithKim
Get in touch with us for more information on any of the above.
ACTIVITIES IN NUSA LEMBONGAN
Okay so scuba diving might not be your thing, so what else is there to do with your time spent on the island? The answer is, a lot ?
Here is a list of 12 alternative activities in Nusa Lembongan to spend your days:
Wake up early to catch the sunrise
Rent a moped or bicycle and explore the island
Drive across the famous yellow bridge into Ceningan Island to explore
Take a surfing lesson and catch some waves
Relax at one of the many beach clubs around the island and enjoy beautiful pools and views
Take a tour of the mangrove forest (yes, the island has a mangrove forest)
Go Scuba diving!
Visit the famous Devils Tear to watch the waves crash against the rocks or to enjoy a stunning sunset
Relax on the beach with a book and a drink
Swim in the ocean
Take a yoga class
Explore all the beautiful beaches the island has to offer
It is important to know the island of Nusa Lembongan has two main villages, Lembongan village, and Janu Batu village. It takes roughly 15 minutes to get from Mushroom Beach (Lembongan village) to the other side of the Jangut Batu village. So make sure you plan your activities so you have enough time to spend at the things you want to see.
RESTAURANTS IN NUSA LEMBONGAN
There are a good variety of restaurants in Nusa Lembongan. On the island, you will find options ranging from local 'warungs' to burgers, Italian restaurants, resorts that cater to all taste buds. Some you have to drive to, others will arrange pickups and drop-offs from your accommodation.
If you are looking for local 'warung food', for ease we recommend two places. One near Mushroom Beach, the other in Jangut Batu.
Warungs:
Warung Kevin is located about a 5-minute walk from Mushroom Beach. You can ask for directions from us, or most locals should be able to point you in the right direction.
Warung Nyoman is a warung located just outside of Jangut Batu towards the mangroves.
Restaurants that pick up and drop off:
Le Nusa Beach Club
Hai Tide Restaurant
Cafe Pandan @ Dream Beach
Oishi Japanese Restaurant
Mama Mia Bar and Grill
Lemon Grass Restaurant
Mahagiri Restaurant and Resort – one of the biggest resorts on the island.
Sandy Bay Beach Club
Suka Nusa
Ohanas
The Sampan
D'Paon
Finally, what would a list of places to eat be if we didn't let you know where the best pizza on the island is! This can be found at the Hai Tide resort. Only a minute walk from Mushroom Beach / Scuba Center Asia in the Lembongan area.
We hope this complete beginner's guide to Nusa Lembongan has helped shed some light on this magical little island. If you already know about the islands and want to come and experience some of the world-renowned scuba diving the island has to offer, get in touch with us today for more information.